There were several jaw movement tracing systems ( JMT systems ) in IDS 2017. This time, we didn't see many new companies join this field, but each of them has improved their software, function, and integration with CAD software. It is now easier than ever before to use JMT record to design restorations.
System Introduction
Modjaw
During the last IDS in 2017, Modjaw was one of the underdogs that came out swinging, because it was able to record jaw movement without data from a CBCT. It was an amazing feat, considering that even now most of the JMT systems are still unable to achieve it. Since 2017, Modjaw has been improving itself, including automatic calculation of occlusion parameters, such as Bennett angle. In the previous version, it was only able to make the jaw movement into a Functional Generated Pathway (FGP), and export it as a non-movable .stl file, and then import to CAD software as reference model. But now, it can be exported as .xml data file, which contains the full animation data to be used in the CAD software.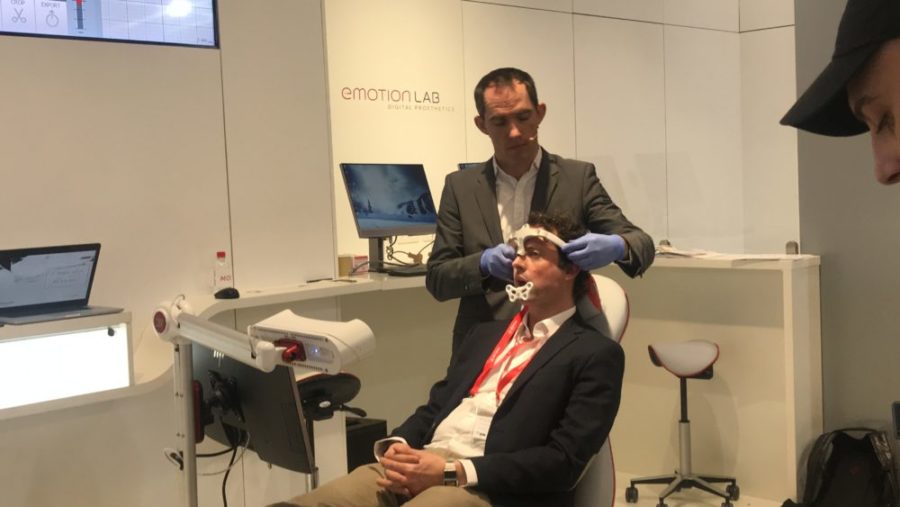 Zebris
At the dental show, if the products are not innovative or eye-catching, it was difficult to attract visitors. The booth of Zebris was quite deserted two years ago because there was nothing new. But they were different this year. To enhance accuracy, they developed an optical position-locator version of the original ultrasonic position-locator system. The ultrasonic transmitter has been downsized to a small light triangle block, and the little box that is placed in front of your chest is no longer needed. The original version was almost the same as SICAT Function, but the new version is much more compact.
Several companies have worked with and incorporated Zebris's innovative technology into their products. It is a sign of their brand's logo was on many of the products on display at the symposium. We can export as .xml file from Zebris, then import it into CAD software.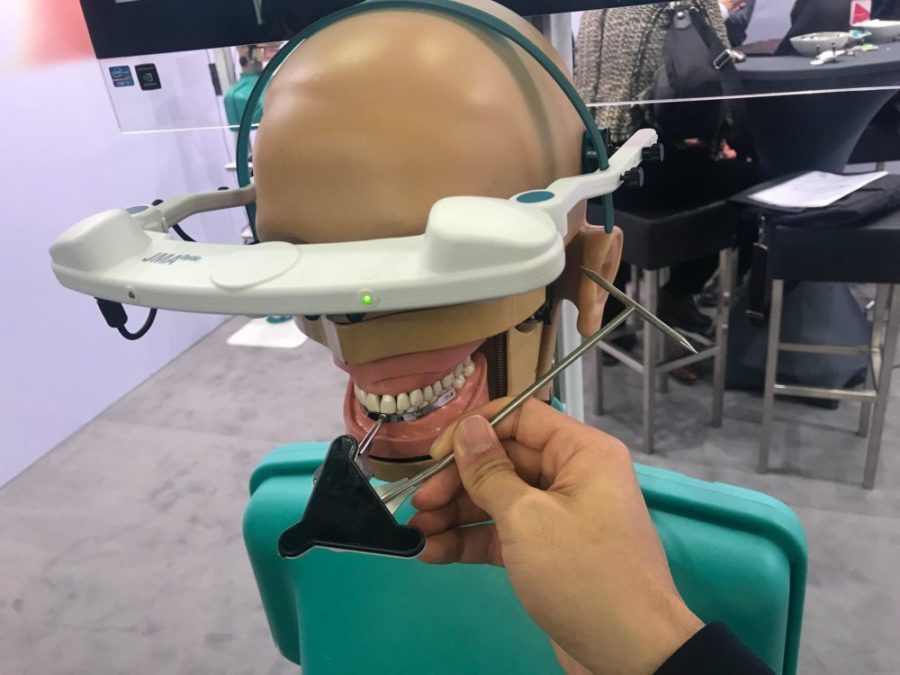 3Shape
Two years ago, 3Shape announced that they can record the dynamic occlusion with their TRIOS intraoral scanner. Back then it was only a video demonstration, but this year they've shown it to be a reality. After scanning the upper, the lower and the static occlusion, you can now make an additional scan with the jaws moving to capture the motion. This dynamic occlusion can be used to help design restorations.
This dynamic occlusion is different from JMT because by using an intraoral scanner to record the movement of jaw, we need to scan both upper and lower jaws at the same time. Considering the small size of the scanner, this places a limit on how wide the mouth can open.
When performing the buccal scan for full mouth scanning, we either scan a larger area or scan bilaterally. For dynamic occlusion scan, we use the small area of the scanning field to map the whole arch. Dynamic occlusion scan is not recommended for full mouth rehabilitation or JMT diagnosis as the result would not be accurate. Regardless, this innovation should be helpful for localized restoration.
SICAT Function
Dentsply Sirona's SICAT Function didn't get much updates as the original version is already pretty comprehensive. JMT records can diagnose TMD. It can also be used to design a full mouth rehabilitation. If the volume of the CBCT is too small to locate the condyles, the software can calculate the condyle positions automatically.
Planmeca
Planmeca did not change a lot over the past 4 years. They still use the cameras mounted on the CBCT machines to locate the jaws and recording the movement. So far it can only be used to diagnose TMD. It has not been integrated with CAD software.
Ways to integrate JMT with CAD
Besides using JMT records for TMJ diagnostics, it also serves an important role ,especially for clinical dentists, by aiding the development of the restoration. This greatly decreases the chair-time for functional adjustment and minimize the time needed for the patient to get used to the new restoration. Here are two applicable workflows: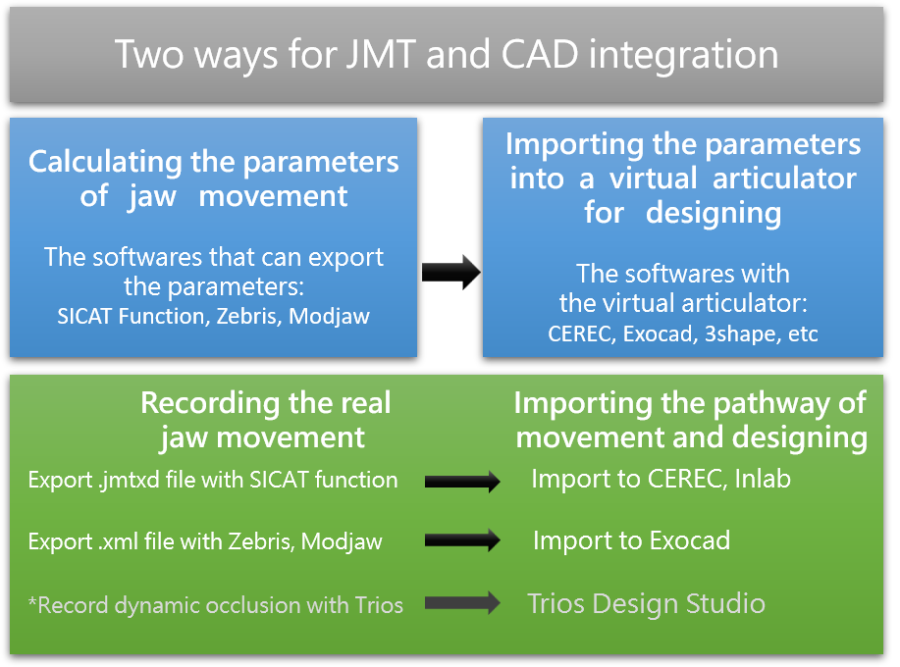 The Trend of JMT system
Optical positioning becomes more popular: In the past, most of the systems were ultrasonic or magnetic positioning. Nowadays, more and more systems are developing an optical positioning system integration. Optical positioning has grown in popularity and so has its technological advancements.
Integrating the information from JMT with CAD: To use JMT exclusively as a diagnosing tool cannot satisfy the user anymore. Therefore, companies have been dedicating themselves to integrate JMT with CAD smoothly. After all, using the real jaw movement to design the restorations is more accurate than using an articulator.
Conclusion
For cases with localized treatment, we can use the virtual articulator for the occlusal design. This equals to working with a fully-adjustable articulator for every case. Using the dynamic occlusal record to design can also reduce the time needed for adjustment when delivering. For full mouth rehabilitation, using a JMT device to record the jaw movement, or favorable VD, CR, and is helpful throughout the design stages. Dr. Lucky Lee published a case of full mouth rehabilitation at our annual event last year. In that case he produced three set of restorations using three workflows. Two of them were designed with different JMT workflows, the third one didn't use JMT record , and then he made a comparison of these three. For further understanding of the clinical application, please check it out.
李萌 is a member of Sweet Space Dental Clinic and CEREC Asia Training Center.