This year at the International Dental Show (IDS) in Cologne, Germany, visitors witnessed an explosion of digital dentistry in both hardware and software. As avid CEREC users, my colleagues and I attended IDS with the purpose of getting our hands on the latest technology the industry had to offer.
There were a few clues ahead of time that indicated big releases from reputable companies, but it was the sheer scale and diversity of the digital applications that amazed us. Some were practical and long overdue, while others were exciting and totally out there. For me, the best part was how IDS showcased the rapid growth and tight competitions in the trade, and this can only be good news for the end users.
The original version of this article was written in Chinese and released a few days after IDS ended. Due to popular demand from our friends overseas, we decided to release this revised edition in English. Keep in mind that the contents of this article is not a direct translation, but an updated view after we had some time to, dare I say, digest the material in the couple of weeks following IDS.
In this particular review, we have focused on the intraoral scanners (IOS) that were available at IDS. For each device, we've noted down some preliminary thoughts based on our first-hand impressions, and compiled a numerical rating based on our established criteria. The purpose of our endeavor was to provide some useful information to the dentists of Taiwan (and now, the world), and in no way do we claim objective accuracy. As far as we know, however, there are no known references in organizing and rating IOS, at least not of the magnitude that we are attempting here.
Full disclaimer: I was a 3Shape TRIOS user for my master's degree dissertation, and now use the latest CEREC system for routine treatments at the office.
#Update 06/10/2017: As I've written in the Addendum section, an unfortunate consequence of reviews is the appearance of "winners" and "losers". In the past two months after the release of this article, I have been contacted by numerous individuals representing a variety of interests, including dentists, technicians, retailers, and companies whose scanners we reviewed. Most of the engagements have been very informative and tremendously productive. However, since the commentary in this article was based on our initial and subjective experience, it would seem strange and inappropriate to make changes to its main text, except where there are factual errors that are verifiable (and there were a few that were pointed out). 
That being said, I do understand the concerns raised by many with regard to our rating system, which admittedly is very subjective. It is apparent that we have completely ignored certain criteria, such as the cost of the devices, their design and milling (CAD/CAM) capabilities, and differences in their target demographic. This was on purpose, but now due to the overwhelming and unexpected popularity of this article, it feels like perhaps an explanation is warranted. I will provide a link to the exposition when it is published.
Review Criteria
Before we begin, it's useful to establish some criteria for evaluation. The primary concerns of most dentists revolve around the speed of the IOS, and rightly so, since speed alone can determine whether the scanner is clinically viable or not. However, there are several other factors that are often overlooked, and some are arguably just as important.
The following are the four major criteria that we feel are most important to a dental clinician.
Scanning Speed
As of now, all IOS's use some form of light for image acquisition, and the quality of this light can be easily contaminated in the dynamics of the oral cavity. Movable tissues, fluids, and metallic surfaces are just a few of the complications that can drastically prolong scanning time, since the devices may have trouble finding usable images to stitch together.
A speedy scanner means that the timeframe for human errors to occur is reduced, and issues such as excessive bleeding and soft tissue interference can be more easily managed. This in turn produces a better signal-to-noise ratio, making scanning speed imperative for both patient comfort and impression accuracy.
Size of Scanner Head
Unlike some things in this world, bigger isn't usually better for intraoral scanners. In particular, the size of the part that does the actual scanning (i.e. the "head") can decide how easy it is to access the distal angles and embrasures of the molars. While there are some merits to the argument that a larger scanner head can process a wider area in the same period of time, we feel that the trade-off is still in favor of smaller scanners, to a certain degree.
Ease of Use
One thing we noticed while trying out the IOS's was that some would stutter, and some were simply not as convenient to use for various reasons. This may be due to software optimization, or the shape and weight distribution of the scanner, or whether or not powdering is required. For this criterion, we were looking for problems that cause unnecessary delays or pauses during the scanning procedure.
Image Capture
Sometimes clinicians may not be to achieve a satisfactory image acquisition in one scan, and subsequent scanning of the same regions to fill the "holes" in the models become necessary. For this criterion, we gave ratings based on how easy it was to perform a scan until completion, whether this had to do with software navigation, model manipulation, camera repositioning, or other factors.
There were also some secondary features that may be of interest to the reader:
Touch-screen controls
Powderless
Remote Control
Color Acquisition
Shade Selection
---
TRIOS 3 (3Shape)
Already with one of the fastest scanners on the market, 3Shape had really outdone themselves this year at IDS with the addition of new features.
There were some nifty upgrades to both the Dental Designer software and their scanner hardware, one of which is the new wireless model.
The wireless model, available at a premium price, was surprisingly fast in terms of scanning speed and response time.
There was no noticeable difference between the wired and wireless versions, although the latter does seem to have a second or two of connection time prior to each scan.
A new update in the software allows the scanners to act as remote controls. At the current stage, the user interface is slightly cumbersome and not very responsive (it even froze at one point, as shown in the video), but the idea seems very promising.
Another software update that I really enjoyed, called Digital Patient Monitoring, was the ability to track the patient's oral conditions over time, but that's a discussion for another time
Overall, the hardware didn't change very much, but the whole workflow has been made smoother and more intuitive.
| | | | |
| --- | --- | --- | --- |
| Speed | ★★★★★ | Touch-Screen | ☑ |
| Size | ★★★★☆ | Powderless | ☑ |
| Ease | ★★★★★ | Remote Control | ☑ |
| Completion | ★★★★★ | Color Acquisition | ☑ |
| Average Score |  ★★★★¾ | Shade Selection | ☑ |
---
CEREC Omnicam (Dentsply-Sirona)
The Omnicam at IDS felt faster than the ones I use in the office, perhaps due to a better CPU and software optimization.
The scanner head size remains unchanged, and is on the smaller end of the spectrum. It is still bigger than scanners from 3M and Dental Wings, however.
Call me biased, but I think the Omnicam provides one of the most fluid and lag-free scanning experiences in the bunch, even when compared to the fastest TRIOS from 3Shape. I believe this was achieved by reducing the resolution in the preview render during the scan, whereas 3Shape creates a more detailed and aesthetic, but ultimately more CPU intensive preview.
With the upgrade from version 4.4 to 4.5, the CEREC software is able to better to automatically trim away unwanted tissues in the scan, something that I feel 3Shape has always done a better job of.
After the scanning is completed, most IOS software goes through post-processing to compute the final model. This can be time-consuming, especially if the scanned regions are large (full-arch). With the latest version of CEREC, it now does this rendering step in the background DURING the scan, thereby drastically cutting down the waiting period.
| | | | |
| --- | --- | --- | --- |
| Speed | ★★★★★ | Touch-Screen | |
| Size | ★★★★☆ | Powderless | ☑ |
| Ease | ★★★★★ | Remote Control | |
| Completion | ★★★★★ | Color Acquisition | ☑ |
| Average Score | ★★★★¾ | Shade Selection | ☑ |
---
CS3600 (Carestream)
Compared to the previous model that used photo-capture (CS3500), the new video-capture CS3600 is substantially better in almost every way.
The scanning speed is not the fastest but was quite smooth.
The scanning head size is decent and has an interesting aspect-ratio, with the option to choose between a wide and narrow version.
The version shown at IDS was the wide version, and I could handle it just fine on the typodont.
I also tested this IOS on a real person, and the results were better than I expected. There were a few issues, but given the lack of a proper setup at the trade show, I don't think my assessment here would be fair.
Overall, CS3600 was a pleasant surprise, considering how far it has come since CS3500.
As an aside, the CS Restore software still suffers from a multitude of limitations, one of which is the inability to design multi-unit restorations.
| | | | |
| --- | --- | --- | --- |
| Speed | ★★★★☆ | Touch-Screen | |
| Size | ★★★☆☆ | Powderless | ☑ |
| Ease | ★★★★☆ | Remote Control | |
| Completion | ★★★★★ | Color Acquisition | ☑ |
| Average Score | ★★★★ | Shade Selection | |
---
Emerald (Planmeca)
The scanning speed was considerably improved compared to its previous generation.
The heads are still replaceable, and a smaller size will be available in the future, according to the reps at IDS.
Overall scanning was comparable to the CS3600; decently fast and relatively smooth
During the scan, on-screen colors indicate whether the software is able to adequately capture the images, implying that the user should be looking at the screen while scanning the patient.
The advantage of Planmeca over the Carestream model is that its software aspects are much more mature and streamlines very nicely into its own milling units (similar to CEREC).
| | | | |
| --- | --- | --- | --- |
| Speed | ★★★★☆ | Touch-Screen | |
| Size | ★★★☆☆ | Powderless | ☑ |
| Ease | ★★★★☆ | Remote Control | |
| Completion | ★★★★★ | Color Acquisition | ☑ |
| Average Score | ★★★★ | Shade Selection | |
---
DWOS (Dental Wings)
The DWOS scanner head had an interesting design that placed extra sensors at an angle around the central cameras (see video). According the sales rep, these sensors help to increase image acquisition.
However, my own hands-on experience didn't see much speed improvement, and it was actually fairly slow to scan.
I really dig the innovative head design though, even if the execution wasn't perfect. Adapting the camera shape to fit the dental arch really seems like a good idea.
The DWOS allows the user to control its software with hand gestures: wave your finger in front of the screen, and a peripheral camera will pick up the input. It was totally cool until it got awkward.
Honestly though, the gesture control feature may also be a right step in terms of infection control, similar to the remote control feature found on the 3Shape TRIOS.
The scanner head comes with indicator lights that tells you whether data is currently being successfully acquired, implying that you should look at the patient while scanning.
One of its software's features was real-time synchronization between the design software and CT software, where moving the implant position in the latter will cause the restoration design to automatically adjust.
Overall, the DWOS is a collection of a few great ideas, and I hope to see them better implemented in the future.
| | | | |
| --- | --- | --- | --- |
| Speed | ★★★☆☆ | Touch-Screen | ☑ |
| Size | ★★★★★ | Powderless | ☑ |
| Ease | ★★★★☆ | Remote Control | ☑ |
| Completion | ★★★★☆ | Color Acquisition | |
| Average Score | ★★★★ | Shade Selection | |
---
True Definition (3M)
In addition to its original cart version, 3M now has a mobile version (with a Microsoft Surface) that connects to its scanner via USB.
The scanner head is one of the smallest currently on the market.
Scanning speed is acceptable, but powdering as a necessity is a big issue, especially nowadays when powderless alternatives are everywhere.
The software UI during scanning only shows the scanned model, and not the perspective of the scanner camera. This is quite distinct from other scanners, because it means that there is essentially no on-screen visual reference to position and adjust the scanner. This will affect how image acquisition is resumed after an interruption.
To alleviate this problem, they've added directional indicators on-screen to let you know the relative position of your scanner to the dentition, but the whole implementation was somewhat convoluted, and even the reps couldn't provide a satisfactory explanation.
There's no way to directly fill the holes in the model. Instead, you have to remember where the holes are and scan an entirely new model, after which the software stitches the two models together.
The biggest advantage I can see with this device is its mobility, but with its powder requirement, no color output, and no design software, better alternatives are definitely available.
| | | | |
| --- | --- | --- | --- |
| Speed | ★★★☆☆ | Touch-Screen | ☑ |
| Size | ★★★★★ | Powderless | |
| Ease | ★★★☆☆ | Remote Control | |
| Completion | ★★☆☆☆ | Color Acquisition | |
| Average Score | ★★★¼ | Shade Selection | |
---
Aadva IOS (GC)
The scanning speed isn't too great, but acceptable and fairly lag-free.
Despite its body being one of the slimmest, the scanner head is actually quite big.
Interestingly, scanning an area larger than four units is not recommended by GC, citing accuracy concerns.
Without an accompanying design software for restorations, the primary function of this scanner is to export to STL.
| | | | |
| --- | --- | --- | --- |
| Speed | ★★★☆☆ | Touch-Screen | ☑ |
| Size | ★★★☆☆ | Powderless | ☑ |
| Ease | ★★★☆☆ | Remote Control | |
| Completion | ★★★★☆ | Color Acquisition | |
| Average Score | ★★★¼ | Shade Selection | |
---
iTero (Align)
The iTero was one of the big players in the past that first used confocal microscopy (which 3Shape also makes use of) for image acquisition.
Its current market is for full-mouth orthodontic impressions, and mostly specific to Invisalign treatments.
For this reason, it can scan relatively quickly
However, it was one of the biggest and heaviest scanners shown at IDS and, as a result, can be rather unwieldy to handle.
For me, who was using this device for the first time, it was very difficult to complete a scan using only one hand.
The rep assured me that one-handed operation was possible, but in certain tooth positions even he had to stabilize the scanner head with the offhand.
Though I'm sure this technical issue can be overcome with practice, there are certainly lighter alternatives available that could scan equally rapidly and smoothly, if not more.
New upcoming updates will allow prosthodontic impressions in addition to the orthodontic impressions, expanding its target demographic.
| | | | |
| --- | --- | --- | --- |
| Speed | ★★★★☆ | Touch-Screen | ☑ |
| Size | ★☆☆☆☆ | Powderless | ☑ |
| Ease | ★★☆☆☆ | Remote Control | |
| Completion | ★★★★☆ | Color Acquisition | ☑ |
| Average Score | ★★¾ | Shade Selection | |
---
Condor Scan (Condor)
The rep lady at Condor did not allow us to try the scanner because we were not "specially trained".
Fortunately, a different rep was much more hospitable the day before, and we had already made a quick test video.
This was perhaps one of the slowest scanners shown at IDS.
The way the scanned model was rendered on-screen was also rather peculiar, as different parts of the scanned model would re-adjust itself over time, even if I wasn't scanning those regions.
They've included an optional padding on the scanner head, which was supposed to be in contact with the teeth at all times to maintain the camera at a specific distance. As can be seen from the video, the padding is rather thick.
Removing the padding doesn't help either, because the camera has a hard time capturing data if it's too close or too far from the target. The video shows how unforgiving and sluggish this scanner is in a real test.
The lights on this thing was pretty bright and rather uncomfortable to the eyes.
The Condor Scan has no design software, so its primary use is to export PLY (or STL) files to a third-party.
| | | | |
| --- | --- | --- | --- |
| Speed | ★☆☆☆☆ | Touch-Screen | |
| Size | ★★★★★ | Powderless | ☑ |
| Ease | ★☆☆☆☆ | Remote Control | |
| Completion | ★★★☆☆ | Color Acquisition | ☑ |
| Average Score | ★★½ | Shade Selection | |
---
MyCrown (Fona)
The MyCrown from Fona felt a lot like the old Bluecam from Sirona in terms of scanner size and shape
Since Fona is apparently owned by Sirona, the software UI was essentially the same, but with numerous features stripped out.
The scanner cannot pick up areas without powder (as shown in the video), and this has big implications on clinical use, when saliva and soft tissues can easily remove areas of powder.
The scanner lights are also one of the brightest shown at IDS. I would say even more so than the Condor.
Overall, it felt like an entry-level CEREC, but with a crippled software and a much poorer scanner.
| | | | |
| --- | --- | --- | --- |
| Speed | ★★☆☆☆ | Touch-Screen | ☑ |
| Size | ★★★☆☆ | Powderless | |
| Ease | ★★☆☆☆ | Remote Control | |
| Completion | ★☆☆☆☆ | Color Acquisition | ☑ |
| Average Score | ★★ | Shade Selection | |
---
VIZ (Adin)
The VIZ wasn't the biggest scanner, but the thickness of its handle made it difficult to hold in a pen-grip.
The scanning speed was perhaps the slowest of all the scanners.
The resolution of the model after post-processing was a bit low, since polygonal surfaces were clearly visible without zooming in very much.
The main selling point of this scanner seemed to be its price, or in the rep's own words: "It's simply the best scanner for the money." I would probably, and respectfully, disagree 100%.
#05/15/2017 UPDATE: It has been brought to my attention that the VIZ software does have touch-screen function as long as the accompanying laptop supports it.
| | | | |
| --- | --- | --- | --- |
| Speed | ★☆☆☆☆ | Touch-Screen |  ☑ |
| Size | ★★☆☆☆ | Powderless | |
| Ease | ★☆☆☆☆ | Remote Control | |
| Completion | ★☆☆☆☆ | Color Acquisition | |
| Average Score | ★¼ | Shade Selection | |
Addendum: The Ratings
With the release of the Chinese version of our article, a few retailers weren't too happy with our results, unsurprisingly. It is unfortunate that the very nature of reviews and ratings, however innocuous, dictates "winners" and "losers". Again, keep in mind that the ratings listed in our review are based on our first-hand subjective impressions at IDS. Inevitably, most of the assessment is a comparison in reference to our own experiences with the TRIOS and the CEREC Omnicam. That being said, I believe our experience also enabled us to perhaps make subtle distinctions between characteristics that are seemingly important and those that are actually important. With all the numbers that the sales reps are throwing at us, sometimes it's hard to translate benchmark figures into real-world performance. With our review, we hope to give some indication of how "ready" each scanner is in comparison to its competitors.
Although the final rankings reflect how we felt at IDS, the choice of our criteria may leave some things to be desired. For instance, a one-star rating in "scanning speed" is much more detrimental to the whole experience than, say, a one-star in "scanner size". This is another area of discussion that we would like to tackle and, as always, we welcome all comments and suggestions.
Conclusion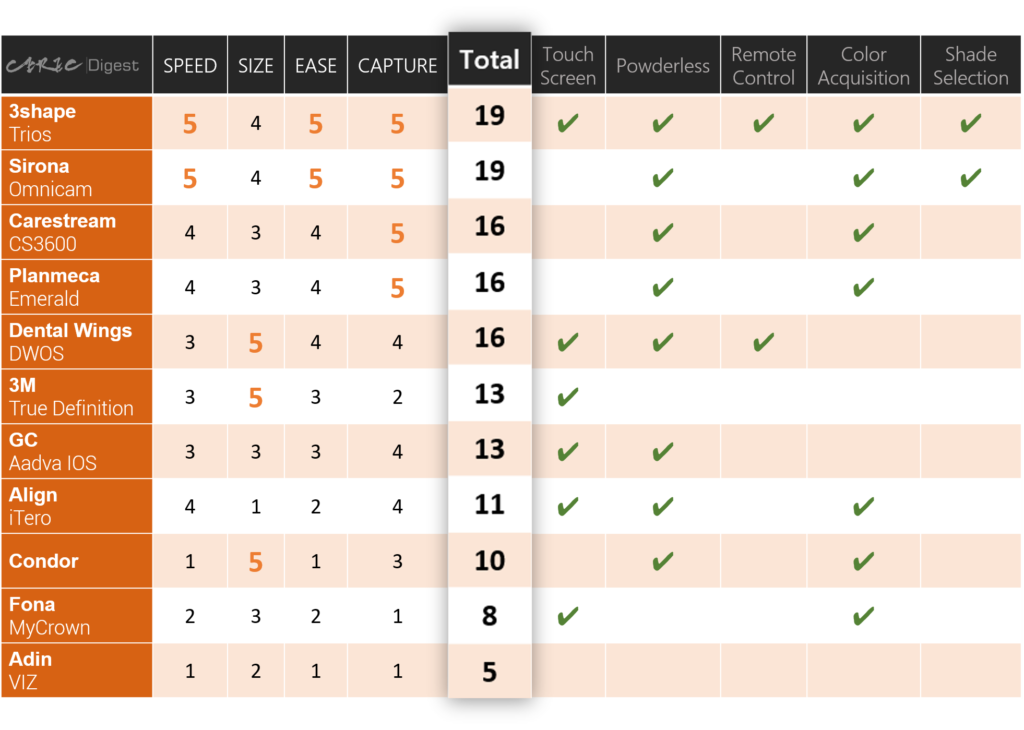 The above table is an overview of the ratings for each IOS. The total scores give a relative idea of where each scanner stands in terms of performance and readiness. It is important to remember that this review is entirely focused on the scanner, without considering other stages of the digital workflow. Some scanners (e.g. Condor, 3M) only function as replacement for impressions, while others (e.g. Planmeca, Sirona) can be completed with a design software and a milling device. Therefore, deciding which IOS is "better" is not simply a number's game, but depends heavily on the needs of the clinician and the degree of digital integration.
Whenever the topic of IOS comes up, at least in our part of the globe, the discussion is often hampered by cynicism and confusion. The core of the problem lies in the limited amount of resources to obtain useful information. This is often further exacerbated by ambiguous or inaccurate claims made due to commercial expediency. For a lot of traditional dentists, this is scary and unfamiliar territory, and we hope to simply start a conversation. That is the purpose of our review.
This review is a combined effort of Cheng-Han Li, Meng Lee, Fan-Wei Kung, and myself, Hsuan Chen.
Hsuan is a lecturer at CEREC Asia Training Facility. He is from Vancouver, Canada, and is a big fan of prosthodontics and profanity.